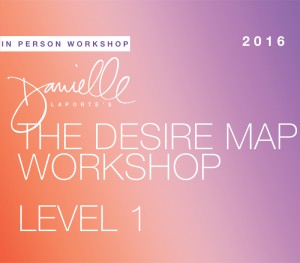 How do you want to feel?
In your heart, your body, your career?
When you wake up in the morning,
when you speak your peace,
when you go after what you want?
THE DESIRE MAP WORKSHOP—LEVEL 1 is a program for clarifying what you truly want in every area of your life, and using that powerful awareness to guide your choices.
You will leave this workshop knowing your "core desired feelings"—a guidance system for your decision making. A GPS for your soul.
We'll look at our perceptions around "feelings" and goal setting. We'll examine how we drive and strive, and see where in our lives we experience freedom—and where we want more of it.
You will be guided through five life areas to explore your most desired feelings in:
Lifestyle & Livelihood
Creativity & Learning
Body & Wellness
Relationships & Society
Essence & Spirituality
We will create sacred space, inner and outer. We will offer up our own wisdom, relate, and learn from each other—like women (and some very cool dudes) always do.
You will make some soul-anchored declarations and attach them to some every day PLANS. Poetic to the practical.
NOTE: Plan for aha's and alleluias. After declaring your core desired feelings, people have been known to make changes. You may quit stuff, launch something, stand up, shine brighter, ask for more. You may feel the way you've always wanted to.
Next Workshop
Led by: Annette Dahle Carlmark
Time: April 8 –  9 at 10:00 a.m. to 5:00 p.m.
Location: Verksgaten 13.
Price: NOK 2900, – incl. Meals and workbook.
Do you want to learn more about The Desire Map or Danielle Laporte?