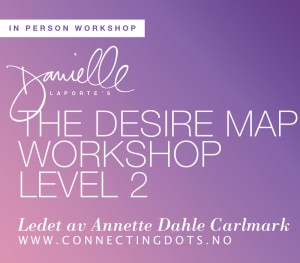 The Desire Map Workshop – Level 2
This is a one-day workshop for those who have already completed The Desire Map Workshop – Level 1 and has identifiesd your core desired feelings.
The Desire Map Workshop Level 2, is the practical application of the core desired feelings identified in Level 1. This is where the soul is …. Systematized.
In this workshop, we will focus on, among other:
Refresh / update our core desired feelings
Explore feelings about goals and objectives, particularly in relation to ambition, external approval and "success." Most people will find at least one pattern of behavior related to the goals and goal-setting that has been restricting their capacity of freedom.
We want to create a sacred space that, in a meaningful way, can give good feelings around goals.
Identifying some goals and / or intentions that are aligned with your core desired feelings, and make a plan to support these.
Next Workshop
Led by: Annette Dahle Carlmark
Time: May 21 at 10:00 a.m. to 7:00 p.m.
Location: Verksgaten 13.
Price: NOK 1400,-
Do you want to learn more about The Desire Map or Danielle Laporte?